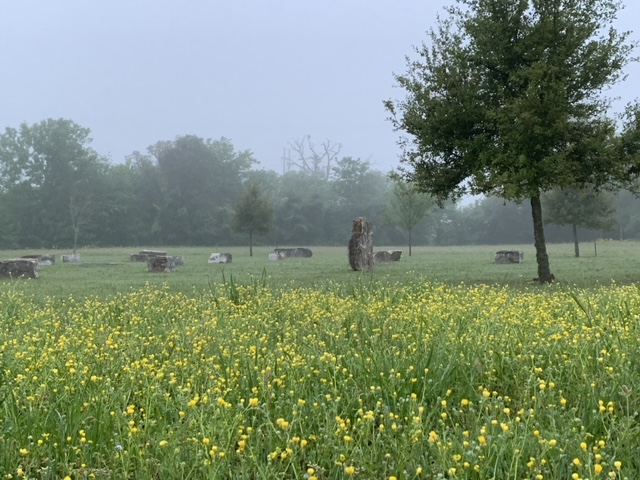 Dear LOMG Family,
As we find ourselves in the midst of August 2023, I wanted to take a moment to provide you with some updates on the remarkable events that have transpired at LOMG over the summer months. The warm season has brought both challenges and triumphs, and we are thrilled to share our journey with you.
In June, we experienced the energy of the Mankind Project's 3rd 2023 Weekend, a time of growth and transformation for our community members. July proved to be equally dynamic as we hosted Crucible as well as a combined gathering of the Mankind Project South Central Leader Body & "PIT" training, alongside an "Unpacking Power, Privilege, and Difference" training event. With August upon us and the sweltering heat in full force, we are embracing a quieter period as we ensure the safety and comfort of all involved.
Your unwavering support and contributions have enabled us to achieve incredible feats. Here's a glimpse of where your generosity has been directed:
Kitchen Revitalization
We've bid farewell to our trusty but aging double-door refrigerator with glass doors. Thanks to your backing, we replaced it with a more efficient and cost-effective model, ensuring that our kitchen remains a hub of nourishment and camaraderie.
Cooling Comfort
JF Warren AC, our valued contractor, replaced the blower on the kitchen AC unit. Additionally, we've initiated a biannual maintenance schedule to service the five large air conditioners across the premises, ensuring comfort for all who gather here.
Electrical Endeavors
Bayer Electrical responded promptly to rectify an underground electrical short that was affecting Cabin 9, highlighting the safety and functionality of our accommodations.
Pathway to Progress
The dedication of volunteers like Richard Stromatt and board member Bob Mayhew led to the repair of our road, eliminating potholes and proudly marking it as "Stromatt Road."
Cabin Comfort
Julie Boon, another dedicated board member, generously donated two air conditioners for cabins 6 & 7. Thanks to the skillful contributions of Scott Emel, these units are being installed to enhance the comfort of our guests.
Community Unity
A fierce storm left a trail of fallen trees in its wake. Thanks to the quick action of board members Richard Torres, Joe Trout, Scott Emel, Bob Mayhew, and Karl Lassberg, the debris was cleared, preserving the beauty and safety of our surroundings.
Maintenance Matters
The heart of our operations, the dishwashing station "Heloise," is receiving much-needed attention from Howdy Appliance Repair, ensuring its continued functionality.
Growing Forward
Bob Mayhew's determination to rejuvenate our grounds through grass growth is progressing admirably. The older irrigation line's restoration is underway, with an ultimate goal of irrigating the circle of stones.
Elevated Aesthetics
Thanks to the generous donation of high-quality cabinetry by Les Sturn, cabin 10 and the kitchen are being enriched aesthetically and functionally. Our vision of replacing unsightly storage racks in the kitchen with elegant cabinetry is steadily coming to life.
Your support makes it possible for us to operate LOMG effectively, and we are committed to maintaining the highest level of transparency in our financial operations. It's important for you to know that 100% of your donations directly contribute to the betterment of LOMG. The dedicated board members are volunteers, driven solely by their passion for this community.
In closing, I want to extend our heartfelt gratitude for your incredible love, time, and financial support. Operating LOMG requires an annual budget of approximately 100K, and we are actively seeking opportunities to expand our reach and impact. Your contributions are being handled with utmost intention and responsibility.
Thank you for being the cornerstone of our success. Please feel free to reach out to me at any time. We value your partnership and look forward to the future with great enthusiasm.
With deep appreciation,
Karl Lassberg
LOMG at Large Board Member
713-254-6265